Nemaha County Hospital Covid Vaccination Appointment Instructions
Nemaha County Hospital is transitioning our scheduling process for the COVID 19 vaccinations to the Nebraska VRAS system. You will no longer receive a call from the hospital to schedule your vaccination appointment.
Once you have registered on vaccinate.ne.gov and there is an available clinic in your area, you will receive an email from VaccinateNE Action Required Do Not Reply>dhhs.no-reply_vras5@nebraska.gov. If you did not register with an email but registered with a phone number, you will receive a phone call or text. This is an invitation to schedule your appointment. Please remember to check your inbox and/or junk folder for this important email. Here are the  steps you will take once you have received the email/phone call: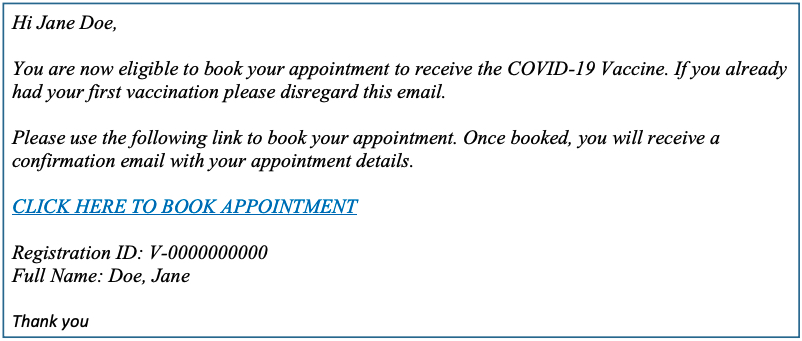 After selecting "click here to book appointment" you will be sent to the VRAS website.
Step 1: Enter your birthdate.
Step 2: Select a vaccine clinic via location map
Step 3: Select Book Appointment
Step 4: Select appointment date and time desired.
Step 5: Appointment confirmation. You are able to print screen and/or wait for confirmation email.
When you receive a confirmation email it will include a QR code. Please print or have the QR code accessible on your mobile device. You must bring the QR code and a photo id with you to your appointment. You will also be asked screening questions. Please complete these prior to the appointment.
*Please bring a photo ID with you.
*Please bring your QR Code with you.
*To ensure that no vaccinations are wasted, if you are unable to make your appointment, please reschedule or cancel with links found in confirmation email.
COVID-19 Visitor's Guide and Weekly Updates
Nemaha County Hospital Visitor Guidelines
All outpatients will be allowed to have one visitor with them. They must stay with the patient the entire time and not be wandering around the facility.

All inpatients/SNF patients will be allowed to have one visitor per day and they must stay in the room with the patient.

All emergency patients will be allowed to have one visitor with them but they must stay with the patient and not wander around the facility.

No minor visitors under the age of 19 will be allowed in the facility.
All patients and visitors, age 19 or older, will be required to wear masks and will be screened before entering the facility. NCH will not provide masks for visitors, they must provide their own.
Nemaha County Hospital (NCH) Screening Procedures
All patients and visitors to NCH must complete the following before entering the facility: 
Have their temperature taken by NCH staff.

Be given hand sanitizer by NCH staff.

Answer ALL screening questions recommended by the CDC.
In the last 2 weeks, have you had:
Shortness of breath, or trouble breathing
New loss of taste or smell
Fatigue

Nausea and Vomiting
Been in quarantine in the past 10 days
Been in close contact with anyone who has been diagnosed with Covid-19
Follow social distancing rules of 6 feet between all individuals while inside the NCH facility. 
*If there is already someone being screened, please remain in your car until they have completed the screening process*
If you have any questions during your visit to NCH, please ask any NCH employee.
Nemaha County Hospital CEO Marty Fattig's Weekly COVID-19 Updates
Weekly updates are provided to staff and the community by Nemaha County Hospital CEO, Marty Fattig.
Weekly Updates March 2021-Current